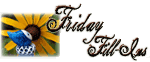 1. I'm looking forward to
spending the weekend reading and sleeping.
2.
Egypt
is a place I always wanted to visit and haven't made it there yet.
3. I've fallen in love with
an Inky Darcy..... shhhhh.... don't tell!
4. Six of one,
huh?
5. Addiction to
brie, pear, and turkey sandwiches is likely.
6. The
things Hope says
cracks me up!
7. And as for the weekend, tonight I'm looking forward to
reading
, tomorrow my plans include
coffee with Erin
and Sunday, I want to
avoid work, but alas, it isn't possible
!
I've got lots to do today. On the docket is:
shop for groceries
caulk the bathroom
clean the house
bake bread
finish Innocent Traitor
finish embroidering a blouse
get some writing done
Onward! Expect some sort of an update later.