January was a good month for the most part. I did have the occasional pregnant lady meltdown, but looking back through the month it was spent with loads of quiet family time and time alone; which is something I sorely needed.
Although I keep trying to acclimate myself to the wonders of Google Calendar and other techno-savvy calendars, I always use and yearn for a good paper planner. Kinda like I have this blog, but I still have beautiful notebooks and lovely pens I use for journaling. I picked up this calendar in late December and I love it. I use the month view for writing in appointments and such and then on the individual week pages I briefly write down events from the day. This is a great way to document favorite recipes, a milestone for the kids, and daily reading when I'm too harried to do full blown journaling / blogging.
I spent this afternoon glancing back through January and here's a sampling of the good stuff.
I read three books: Cheerful Weather for the Wedding by Julia Strachey, The Wars of the Roses by Alison Weir, and The Law and the Lady by Wilkie Collins
I started writing in a new journal and I'm writing at least several times a week
I hung out with old friends and knitty friends and my mom
The thrifted gods were kind and I found great stuff
The nursery is as done as it will ever be and I've received so many kind notes and gifts for Persy
I baked Rosemary Olive Oil bread, dairy-free Banana Nut Muffins, an ugly Coffee Cream Cake, and Oatmeal Creme Pies
I saw Les Miserables and cried buckets
Sam and I celebrated our three year wedding anniversary. We had a wonderful date complete with introverting together, Thai food, and plenty of coffee
Sam's ugly but very warm scarf is completed and I began a blanket for Persy
I had the most amazing reflexology foot rub and it is now my splurge of choice
Work is now OVER UNTIL MAY
Hope has rocked her last full month as a 12-year old. Her room is reasonably clean and her math grades are way up (she has one of the highest scores in her class!). She has been a major help with Atticus and helping me around the house when my feet are puffy and I'm cranky.
Atticus is as spirited as ever. He is cuddly, charming, and a handful all at once. He's is currently obsessed with "worker men" and garbage pickup, Pooh bear, poopy, Legos and waiting on Persy. He's about mastered putting on his shoes by himself, he is "helping" around the house a bit, and his "thinking face" and dinosaur impressions send us into giggles.
Yup.... January's been a good month.
On to February:
February is normally my least favorite month; we always seem sick and cash poor. In fact, last night I was at the ER with Sam to check for pneumonia. Thank goodness it is just bronchitis. I'm slightly freaked out because Persephone will be here soon and I need Sam well!
February has its stresses, but it will surely be a beautiful monthl. My second February baby will here soon and I cannot wait to spend the month getting to know her and introducing her to our little family. After a lot of thought I've decided to go on a bit of a blogging break for February. I'll still be on
Twitter
and
Instagram
. I'll be faithfully reading my Google Reader but commenting may be sparse.
I'll see you all in March with baby pictures, book updates, and more.
My mom did an embroidered piece like this when I was a kid: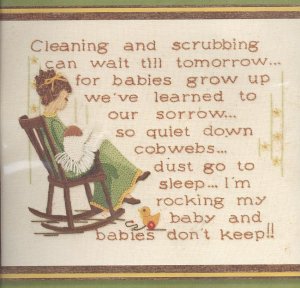 Ain't that the truth; I guess blogging and commenting can wait until tomorrow; because babies don't keep!