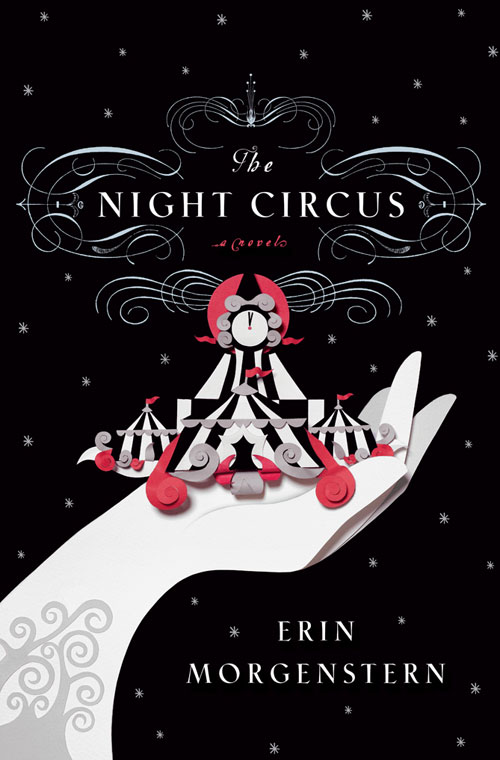 I had every intention on posting my reaction to
The Night Circus
yesterday but between an evening shift at work, a sick little boy, and an inability to clearly articulate my thoughts it just didn't happen. I feel a bit silly even posting about
The Night Circus
; endlessly reviewed on book blogs, this novel of magicians in love and war has been hovering on the periphery of my reading for ages. I finally decided to delve in and tried my best to push aside all preconceived notions and expectations. I cracked open my book on New Year's Eve and prepared to "read in the New Year". I believed I could finish that book in one night. Oh I could have finished the book in one night, but I stopped myself.; I simply couldn't bring myself to let the book end. It was that good. Besides the gorgeous images, my favorite thing about
The Night Circus
was that it reminded me of many of my favorite novels, movies, and authors. Let me make it clear that this wasn't a case of Morgenstern's novel being a pale imitation of a favorite novel, rather it was more like she took the mythology of a myriad of magical things I love and made something new, but with a nod to the old.
Sounds delicious, eh? It is. And I've included the recipe for
The Night Circus
to better sum up my reading experience:
The Night Circus:
Ingredients:
4 Cups Angela Carter's work
2 Cups wonderfully atmospheric color palette of black and white
Dash of red
3 Cups of Jonathan Strange and Mr. Norrell
5 Tablespoons of Geek Love
4 Cups of damn fine writing
1 Cup of The Prestige
1 Quart ingenuity
Pinch of Harry Potter
Dash of Neil Gaiman
Mix Angela Carter's work with the color palette and dash of red.
Blend in Jonathan Strange and Mr. Norrell, Geek Love, damn fine writing and The Prestige.
Create a well in the center and pour in ingenuity, fold in.
Sprinkle with Harry Potter and Neil Gaiman.
Bake at 387 pages. Serve with nighttime, cup of tea, and page-turning dazzlement.
There you are, your very own
Night Circus
recipe. Needless to say as my first read of 2012 Morgenstern's novel has set the bar quite high for my other reads!